We have 18 new puppies and 2 mothers in October… 3 puppies had been dumped in a bag, one pregnant dumped and delivered 10 babies and 6 puppies rescued from the street earlier..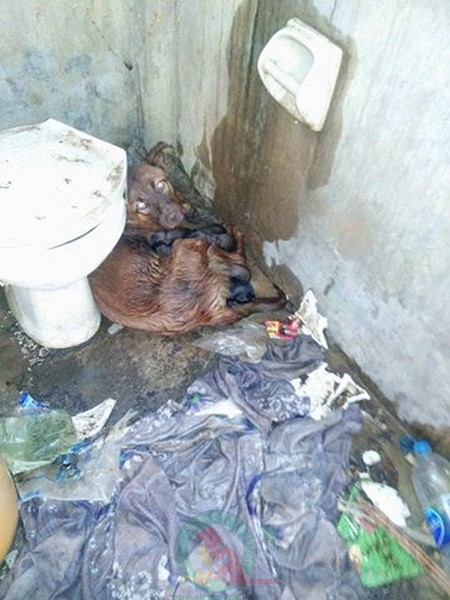 Another emergency today  🙁 a young female dog had been dumped at a supermarket on busy street many months ago. Many people saw her and fed her but of course no one took the heart and time ( and money…) to give her vaccinations or have her spayed. Today she gave birth to 10 puppies in heavy rain. Someone moved her to close by public toilet. A kind local animal lover took her for us to the clinic to be safe and warm for now but i have to make room and move them home as soon as possible as we cannot afford the daily vet boarding cost. Any small donation towards this poor doggie family is highly appreciated and much needed. Thank you  ❤
Another cruelty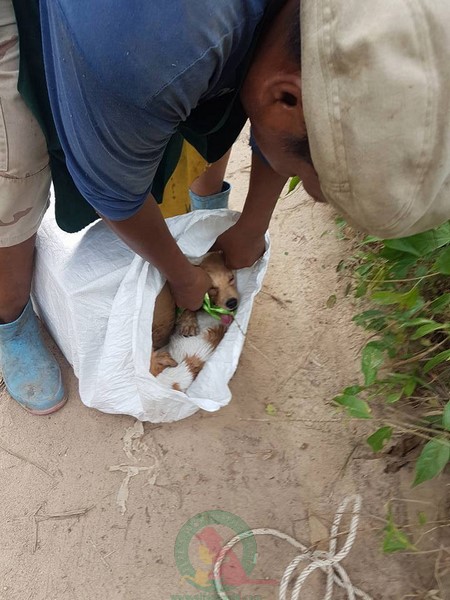 Today when Elfe came back to the land she found this close to our gate.. 🙁 Three poor dogs (mother and two puppy boys) tied up in a bag… 🙁 One puppy's mouth was even tied with a green rope ::( We found them just in time, took them to the vet for check, puppy vaccines and deworm. They are with us now. All three of them have found dear sponsors who have chosen them beautiful names:  Sparkle, Leaf, Fox.
Since they need additional treatment and to be neutered later on we would kindly ask you for a small donation. To cover their costs as well as the costs for the puppies we have rescued last week! Below we have postet some links to the videos showing their rescue.
❤ Welcome sweet ones, you are safe with us ❤
*** Facebook Videos ***
https://www.facebook.com/elfes.world/videos/pcb.10153982702711444/10153982702381444/?type=3&theater
https://www.facebook.com/photo.php?fbid=10153982694071444&set=pcb.10153982702711444&type=3&theater
https://www.facebook.com/photo.php?fbid=10153982694071444&set=pcb.10153982702711444&type=3&theater
The small family after they have moved in with us: