The story of Bones & Snowball
They escaped from the dog meat mafia in Thailand –
and landed in paradise, via a mass shelter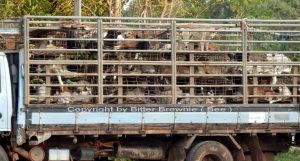 Hello, dear visitor,
We are pleased to be allowed to tell you our story 'by our own paw' and in representation of our many thousands of colleagues:
We were caught illegally in Thailand or sold to traders by our owners in need. We were cramped into small cages with loads of other dogs on a lorry and transported in the great heat through the country.
Why? We did not know that then. But today we do know: we should have been taken to another country in order to end up on a dinner plate.
But that's not all. Due to the belief there that high adrenalin softens the meat, we should have been tortured terribly beforehand. Can you imagine that? So it's not just a case that we should have been eaten but also that we should have been made to suffer terrible pain first.
The Dog Meat Trade business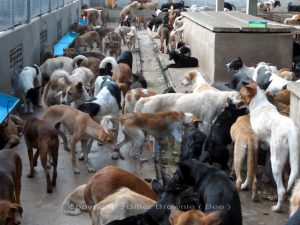 According to official sources, approximately 1,000 of our colleagues are taken daily from Thailand into neighbouring countries to be slaughtered there – the so-called 'dog meat mafia' makes a lot of money this way.
However, our lorry was stopped thanks to organisations, individuals and the Government and we were then sent to a mass holding camp. So we were rescued for the time being.  Sadly, the traders only get small fines. We hope that this will change through the increasing public awareness of the illegal dog meat trade.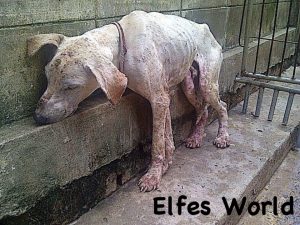 The camp was absolutely awful. Masses of dogs, cramped tightly together, all very sad, many very ill, some already dead. We were quite desperate and physically at our limit of endurance. Please look at the photos. Most of us will have to stay there till the end of their lives.  Conditions are difficult, financial means are limited, even when some organisations support us there. The death rate is high. But even there our collegues have to be cared for.
THEN a small personal miracle occurred: Elfe, of ElfesWorld, saw our picture and arranged for us to be taken out of this camp. She saved our lives! Finally the day came when a lady (the one who took the pictures) collected US and took us to a clinic.
After a few weeks we came to the paradise of ElfesWorld in Koh Samui and can now stay there forever, if nobody wants to adopt us!
Elfe has a private animal shelter where more than 650 dogs live. Most of them were rescued from the dog meat trade. It is mostly the only chance for us of a nice life or even survival. Only a few of us are adopted in the country.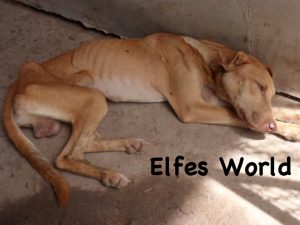 We are so very happy here. We have space, enough to eat, if we are sick we get treatment, and there are nice doggy companions here. Elfe is the best mum in the world, and we owe our lives to her.
Of course, she can only care for us because there are kind people who help her financially.
So many animals cost a lot of money after all. Sometimes Elfe worries how she will be able to pay for it all, but she would rather not eat herself than let us go hungry. That's for sure! However, one sandwich is not enough for all of us.
We need your help so that we can continue to live here without worries and needs. It requires a small fortune to look after 670 animals, but if many people help, then it is possible.
Thank you for your interest
Yours truly, Bones & Snowball
The battle against the illegal dog trade in Thailand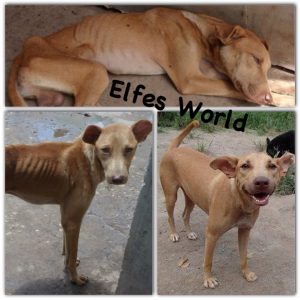 In 2011, the international dog trade became unacceptable to Thai society. The first arrest took place in August 2011 after the confiscation of a lorry in Nakhon Phanom. The lorry carried more than 1,000 live dogs. It was then that the war between the smugglers and the Government started. But because of the high profits the dog meat trade continues. If a dog costs 100 THB (2.50 EUR) here, the price rises to 1.200 to 1.400 THB (30 – 35 EUR) when it reaches Vietnam, for example.
Tippi & Tappi, two who clung closely together
Tippi and Tappi were both rescued from the dog meat trade in 2013 and taken to a mass holding camp. Both were collected from the camp thanks to kind supporters who paid for the transport and hospital costs. Photo 3 was taken during the journey from the camp to the clinic in Bangkok. Tappi was intially extremely shy and afraid, but she is now a very happy girl.  Tippi found a nice home in 2015.