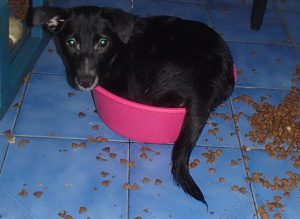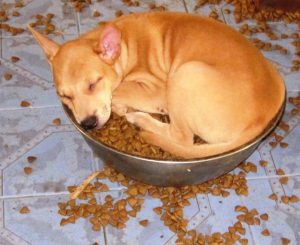 Many hungry little mouths are still looking for sponsors. Part-sponsorships are also possible.
The sponsorship for dogs costs 25.00 EUR per month, for cats 18.00 EUR per month.
Please have a look at our Facebook photo album 'Looking for a sponsor' which features the sweet furries still seeking kind sponsors.
Only through sponsorships and donations is it possible for the many animals to stay happy, healthy, safe and loved in ElfesWorld Thailand. If you have fallen in love with an animal and want to become its sponsor, then please contact us.
Our heartfelt thanks go to our kind sponsors for their loyal support – without you we could not survive.
In our Facebook photo album 'Looking for a sponsor' you will find ALL animals looking for kind sponsors:
Looking for a sponsor Facebook photo album
(Just follow the link, The album ist public and can be watched without being logged in a Facebook account!)
♥ ♥ How does an animal sponsorship work? ♥ ♥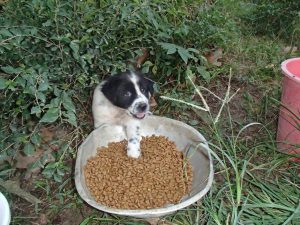 In principle, anybody can become a sponsor of an animal. You choose an animal and tell us by e-mail, private message on our Facebook page.
The sponsorship should cover the food and parasite protection for the animal. Sponsorship amounts can be paid monthly or even in advance for a longer period.
In return, sponsors will receive, at regular intervals,  up-to-date information and photos of their sponsored animal. And they will make a small doggy or kitty soul well-fed and happy.
!!! ♥ ♥ Sponsorships can be divided between several sponsors (part-sponsorships) ♥ ♥ !!!
The animals in ElfesWorld Thailand are very grateful to you. Everybody decides their own length of sponsorship. If somebody can no longer pay, or does not want to, we just ask for a brief message. Thank you!
Bank Accounts
Paypal:

elfesworld@savingstreetsouls.de
https://paypal.me/elfesworldsamui
Xoom via Paypal
Login with Paypal
Click send money
Click send money to a bank account to 90 countries (maybe different for your country)
You will be forwarded to Xoom
Enter details, send money
Payments from EU & SEPA countries (SEPA) ro German bank acount: 
German account
Elisabeth Feigl
Sparkasse Niederbayern-Mitte
Eichendorffstr. 80
94315 Straubing
Germany
Bank Code : 74250000
Account no: 464271
IBAN: DE40742500000000464271
BIC: BYLADEM1SRG
Transfer to Thai bank account
acc. no. 623 – 247086 – 5
miss elisabeth franziska feigl
the siam commercial bank thailand
koh samui branch
94/3 moo 3 tb. angthong
koh samui, suratthani 84140 thailand
Elfesworldsamui@gmail.com
***********************
Western Union to bank account
https://www.westernunion.com/us/en/home.html
➡️ ! How does your receiver want the money?  Please choose to bank account!
E-Mail: elfesworldsamui@gmail.com
WISE to bank account
https://wise.com/
https://wise.com/US/send-money/send-money-to-thailand
E-Mail: elfesworldsamui@gmail.com
***********************
XOOM via Paypal
Login with Paypal
Click send money
Click send money to a bank account to 90 countries (maybe different for your country)
You will be forwarded to Xoom
Enter details, send money
More payment provider:
https://bit.ly/3YyxMiv
https://bit.ly/3POS2IN
https://bit.ly/3YwI967
https://bit.ly/3WHKtWz