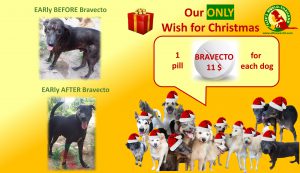 on the Christmas wish list of our dogs
★★ On the CHRISTMAS WISH LIST of the dogs in Elfesworld Thailand ★★ there is – ★★ONE WISH ONLY★★ – and that is one <3 PILL for o10,00 EUR / 11 USD per dog <3
A pill that protects us from fleas, ticks, worms, maggots and other parasites, and therefore prevents us from very bad skin problems and from horrendous blood parasite illnesses. This is our biggest Christmas Wish, because many of us suffer badly and the danger and the pain are tremendous.
A pill named BRAVECTO is our wish for Christmas, because it can make disappear our problems and pain for many many months. One pill costs around 10,00 euros / 11 USD ( depending on size of dog of course, but we will adapt the dosis)
We are really having big trouble with parasites here, they disappear after treatment and come back fast…it's overwhelming…we tried Ivomec , we tried Frontline…it helps briefly, but apparently the parasites get used to that stuff at some point…and for the very shy dogs, it's hard to apply. Also Frontline can be licked by other dogs and can be quite dangerous for inner organs. We are very confident that this "wonder pill" will literally work wonders, and although it is very expensive to buy, we are convinced that in the end it will be more economic, because more efficient and durable.
Please, if you wish to make us a really needed gift, one pill or several pills, for your sponsor doggies or for the poor one without sponsors, please use the usual bank accounts or paypal adress. Reference : CHRISTMAS WISH Please share and tell your friends about it..maybe someone is looking for a great idea to do good for Christmas !!
Thank you and many kisses
The dogs of Elfesworld